James Franco stars in a very strange DROID Turbo viral ad
14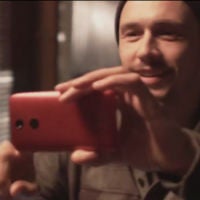 The prevailing idea is that the DROID Turbo will be announced tomorrow, and could be out on store shelves before the end of the week. Given the leaks that we've seen recently, that idea seems sound enough. In addition to the leaks, and an ominous tweet from
DroidLanding
, there is also a very strange new viral ad that stars the DROID Turbo and James Franco.
If the point of an ad is to get people talking about the product, this video certainly meets that criteria. However, if the aim of advertising is to get people to buy a product, we're not so sure that this video is going to get that job done. It does feature James Franco, and was filmed fairly recently, given that under his toque is clearly a shaved head, which he did recently for his role in Zeroville.
The ad goes with the found footage trope, with a couple girls recording Franco riding his bike, but he is moving a little too fast to be believable. The DROID Turbo makes an appearance near the end of the spot, but otherwise you might not even realize this was anything other than a strange video from an actor who has a habit of putting out strange content on social media.