The history of U.S. carriers visualized, or how we settled on the big four: AT&T, Verizon, Sprint, and T-Mobile
37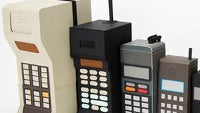 After the last effort to completely overhaul the looks of the wireless carrier market in the United States failed with Sprint's withdrawal from its attempts to acquire T-Mobile, we can finally know that for a certain period of time that we'll continue living in a world of four big carriers: AT&T, Verizon Wireless, Sprint, and T-Mobile.
We've listed them in order of magnitude, starting with the largest, AT&T, with its 116.6 million subscribers in the US. The boost in AT&T subscriber numbers that put it in front of Verizon Wireless happened not too long ago when AT&T merged with Leap Wireless, and added its nearly 5 million subs. Verizon is the second largest carrier now with 104.6 million subscribers, and combined with AT&T, the two hold nearly two thirds of all US phone subscriptions.
Sprint remains on the third place, with 54.5 million subscribers, followed closely with the aggressively growing T-Mobile that now has 50.5 million users. T-Mobile got a huge boost in subscribers after it closed a merger with MetroPCS, a carrier with nearly 9 million subs of its own.
But how did we arrive at this current state of US wireless carriers? Where did it all start? It's a complicated journey, with the foundations laid back in the days of historic names like ALLTELL, FLEETCALL, and MCCAW CELLULAR. See what acquisitions, twists and turns it took for us to arrive at the current state of the market right below.