The first Snapdragon 810-powered smartphone can be yours for $800
36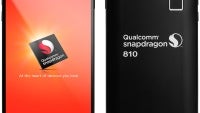 Got a spare $800 laying around? You can save them for a rainy day, or you can pour them into the most veiny, bulky, muscle-y mobile technology on planet Earth. We're talking about the Moto Droid Tur... no, that's yesterday's news already! We're talking about Qualcomm's new Mobile Development Platform Smartphone. These "dev platform" devices represent working samples of the latest ready-to-ship technology from Qualcomm, and are usually released several months before their powerful internals reach consumer devices. Get your hands on one of these, and you're practically staring at the (near) future!
So, what lies ahead? The Android 5.0 smartphone has a 6.17-inch QHD (1600x2560) display with 10-finger multi-touch capacity. If this display size becomes commonplace within flagship devices next year, the 7 and 8-inch tablet might go (near) extinct. Moving down the spec sheet, we have a Snapdragon 810 64-bit octa-core processor, paired with the almighty Adreno 430 graphics unit and 4GB of LP-DDR4 RAM. The star of the show has been extensively profiled on the company's product page, so we'll dig into the most juicy parts for the sake of brevity.
The Snapdragon 810 CPU is based on two sets of four Cortex-A57 and Cortex-A53 cores built on a 20nm process. They are up to 50% more powerful than the ARM Cortex-A15 32-bit core on which the Snapdragon 805's Krait 450 cores are based. The Cortex-A57 core is built on a 20nm process, hence the transistors are smaller and should retain similar power efficiency to that of the Snapdragon 801 and 805.
The graphics unit is touted as 30% faster than the Adreno 420 in the Snapdragon 805. Enhanced graphics aside, the combined units are capable 4K video encoding at 30 frames per second and 1080p video at 120 frames per second. They can also drive 4K primary and external displays (the latter via HDMI 1.4a or Miracast), so it looks like those 4K displays are coming after all. Gosh, so many pixels!
Although the Snapdragon 810's dual imaging chip supports camera sensors of up to 55MP size, the smartphone is mercifully equipped with a 13MP OIS camera with dual LED flash that's able to shoot 4K video at 30FPS and 1080p video @60 fps. The front camera is 4MP auto-focus unit that's able to take 1080p video at 120FPS.
Like any self-respecting developer unit, the MDP-smartphone is chock full of sensors. There's a 3-axis accelerometer and 3-axis gyroscope, a 3-axis magnetometer, an ambient light sensor, proximity sensor, pressure sensor, temperature and humidity sensor, UV sensor, and a Mobeam sensor. In case Mobeam's purpose is escaping you, the technology allows you to scan, collect, and send barcodes with "blinking light". The feature was built inside the Samsung Galaxy S4, but it never sparked much discussion. Oh, and there are 8 microphones at your disposal. You can't record an orchestra with them, but they should suffice for testing forward-looking apps.
Other fancy tidbits are 11.1 surround sound with Dolby and DTS, USB 3.0, Bluetooth 4.1, Snapdragon StudioAccess technology and SecureMSM digital rights management. There's a fingerprint reader as well. All of this is ran by a 3020 mAh li-ion battery. Now, this phone lacks a DC-charger, so unlike
the Snapdragon 805 development platform tablet
, it seems to be designed for battery-powered operation. That said, we doubt the juicer can last long enough to turn what's a strictly developer-oriented device into a consumer item.
The MDP smartphone can be ordered from Qualcomm, and shipments will start by mid-December.