The evolution of HTC's flagship Android smartphones: from the Dream to the One M9
36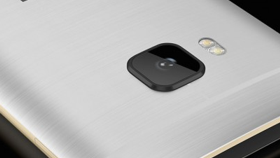 HTC is currently not one of the major smartphone makers when it comes to sales. However, some years ago, the Taiwanese company was at the top, with 2010 and 2011 being its best years (back then, Nokia and BlackBerry were also still at the top). In 2008, HTC manufactured the world's first Android smartphone, and, since then, it had time to launch lots and lots of other handsets, many of which have been among the best in their class.
Earlier this month, at MWC 2015, HTC announced its latest flagship Android device, the One M9 - a perfect occasion for us to take a look at all the flagship Android smartphones that the company introduced until now. Join us below to see how things have evolved.
HTC Dream / T-Mobile G1
As you probably already know, this is the world's first Android smartphone that we told you about a bit earlier. Launched in late 2008, the
T-Mobile G1
/ HTC Dream looks ancient by today's standards: it's very thick, its display is small (3.2 inches, 320 x 480 pixels), and there are no less than 6 hardware buttons on its front side. The G1 / HTC Dream ran Android 1.0 at launch, while featuring a slide-out QWERTY keyboard, a single-core 528 MHz Qualcomm processor, 192 MB of RAM, and 256 MB of expandable storage space. The handset also had a 3.2 MP rear camera which initially couldn't record video (though this was fixed after a software update).
HTC Magic
Released in April 2009, the
HTC Magic
was the world's second Android smartphone, and the first to run Android 1.5 Cupcake out of the box. While it doesn't have a hardware QWERTY keyboard, its internals are largely similar to those of the HTC Dream.
HTC Hero
Later in 2009 (in the summer), HTC launched the
Hero
, which is notable for being the first smartphone to use HTC's own Sense UI on top of Android. It was also the company's first smartphone to offer a standard 3.5mm headset jack, the first to feature a multi-touch display (3.2 inches, 320 x 480 pixels), and the last HTC flagship to have that peculiar protruding chin below its screen.
HTC Desire
Announced in February 2010, and released around the world later that year, this was HTC's first Desire-branded smartphone (as you may know, now the brand is no longer used for flagship devices). The
HTC Desire
brought important improvements over HTC's previous Android flagships, including a 3.7-inch display with 480 x 800 pixels, a 1 GHz Snapdragon processor, and 576 MB of RAM. At launch, the Desire ran Android 2.1 Eclair with Sense UI. The Desire shares most of its internals with the
Google Nexus One
, and also has a lot in common with Verizon's
Droid Incredible
(though this one looks quite different).
HTC Desire HD
The
Desire HD
is called like this not because it offers an HD (720p) display, but just because its 8 MP rear camera can record HD video. It was launched in the second half of 2010, being one of the largest smartphones available at the time (of course, its 4.3-inch, 480 x 800 pixels screen is quite small now). The Desire HD had several carrier-specific versions for the US market, including Sprint's
HTC Evo 4G
(which was actually released before the Desire HD), Verizon's
HTC Thunderbolt
, and AT&T's
HTC Inspire 4G
.
HTC Sensation
The
Sensation
(also known as Sensation 4G) was HTC's flagship smartphone of 2011, featuring a 4.3-inch display with 540 x 960 pixels, a dual-core 1.2 GHz Snapdragon S3 processor, 768 MB of RAM, and an 8 MP rear camera with 1080p video recording. Android 2.3 Gingerbread with Sense 3.0 UI came pre-installed from day one. Related devices include:
HTC Sensation XE
(with a slightly faster processor),
HTC Sensation XL
(with a 4.7-inch display), T-Mobile's
HTC Amaze 4G
, AT&T's
HTC Vivid
, and Verizon's
HTC Rezound
.
HTC One X
In 2012, HTC introduced the
One X
, which, alongside the One S and One V, created a brand new family of HTC smartphones. The One X was the world's first handset to be powered by Nvidia's quad-core Tegra 3 processor, though some variants used a Snapdragon S4 CPU. Other notable features include a 4.7-inch display with 720 x 1280 pixels, 1 GB of RAM, and Android 4.0 Ice Cream Sandwich with Sense 4 UI.
HTC Butterfly / HTC Droid DNA
Initially announced in October 2012 in Japan, the
Butterfly
was one of the world's first smartphones to sport a 1080 x 1920 pixels display (a 5-inch screen, to be exact). In November that year, the handset was released in the US, exclusively via Verizon Wireless, under the name
Droid DNA
.
HTC One (M7)
At launch (in March 2013), this handset was simply called
HTC One
, signaling a new direction for HTC, not just when it comes to branding, but also when it comes to design. The smartphone - still available to buy in many places - offers an aluminum unibody design, front-facing BoomSound speakers, a 4.7-inch 1080p display, 2 GB of RAM, and a quad-core Snapdragon 600 processor. This was HTC's first device to use an UltraPixel rear camera. Initially, the M7 ran Android 4.1 Jelly Bean with Sense 5.0 UI (in the meantime, it's been updated to Android 5.0 Lollipop).
HTC One (M8)
Announced and released on March 25, 2014, the
HTC One (M8)
is slightly larger than the One (M7), as it sports a 5-inch 1080p display. The M8 introduced an UltraPxel Duo rear camera, which lets users apply various effects to photos, though it fails to offer a significant increase in image quality. Other novelties that the One (M8) came with include a 5 MP front-facing camera, a Snapdragon 801 processor, and Sense 6 UI.
HTC One M9
Finally, here we have the newest HTC flagship handset: the
One M9
, which will be available around the world starting later this month. Once again, HTC equipped its flagship with a 5-inch 1080p display and BoomSound speakers (enhanced with Dolby Audio). Improvements over the One (M8) include an octa-core Snapdragon 810 processor, 20 MP rear camera, 3 GB of RAM, and a 2840 mAh battery.
Do you think HTC's Android smartphones have evolved in the right direction? What's your favorite flagship from the ones seen above? And, last but not least, what would you like to see from HTC in the future?