The evolution of Android design: from Cupcake to Jelly Bean
33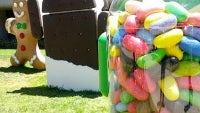 It's amazing to see just how fast Android has grown over the past couple of years, but one change has been especially striking if you look back at the first versions of the platform. That is of course its design. Starting with Android 4.0 Ice Cream Sandwich, Google has brought a brand new Holo UI to Android, making everything look much more modern and easy on the eye.
The icons changed, the menus changed, the whole stock look of Android evolved for the better. And while Android has been evolving steadily throughout the years, it's even more striking to think about the fact that Android's biggest rival iOS basically hasn't evolved in terms of design in the last six years, up until iOS 7.
The collection of screenshots from different Android versions (right below, by CyanogenMod developer Carlos Hernandez), shows that evolution, but it also shows how much devices prior to 4.0 Ice Cream Sandwich differ. Take a look.
Thanks, Alex!
source:
Carlos Hernandez
via
Mobilissimo
Recommended Stories