The bike and Samsung Galaxy Tab 10.1 come together to offer one intriguing set up
10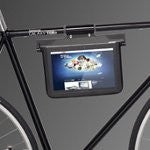 Before going any further, we already know what you're all thinking, and we're actually thinking the same exact thing. The question we should ask is why? Knowing all the
perils surrounding distracted driving
and all, you'd think that the same values and ideas should apply to bicyclers as well.
Despite that, if you happen to have the slight itch to somehow access your
Samsung Galaxy Tab 10.1
while riding your bicycle, then you might want to know that there's a solution for your burning desire – albeit, it might not pan out to be all that practical.
easily used while on the move
."
Currently, there is no pricing being given to this carbon fiber Galaxy Tab 10.1 holder, but it's going to be made available very soon. Still, if you happen to hear something crazy in the news about a biker and a Samsung Galaxy Tab 10.1, and that they've somehow got themselves into an accident of some sort, we'd suspect that you wouldn't be all that surprised.
via
Reg Hardware