The ZTE Spro Plus is a laser-enabled mobile projector with formidable specs
14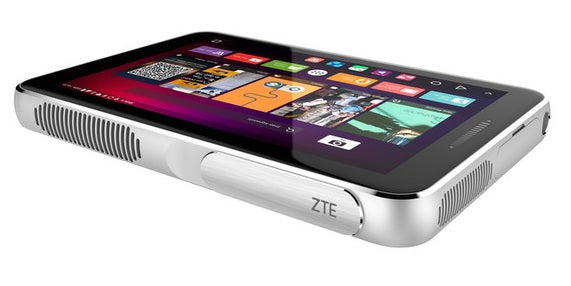 We won't blame you if you're not familiar who or what ZTE is. Despite that it has a slew of phones on the US market, the China-based phone maker is still fighting for its place among the top dogs in the industry, and products like the newly-announced ZTE Spro Plus will certainly aid it in that quest.
And why so? Well, primarily because the ZTE Spro Plus is an intriguing type of gadget -- a portable multimedia projector that comes with Android 6.0 Marshmallow on board and pretty good specs. It comes with a lavish 12,100mAh battery, a Snapdragon 801 chipset, 3GB of RAM, 128GB of native storage(!), and finally, a 8.4-inch AMOLED display with a resolution of 2,560 by 1,440 pixels that allows you to browse your media and control the Spro Plus.
ZTE says the Spro Plus has a laser bulb, and not an LED one; this allows for a maximum projection of around 500 lumens with a projected life of roughly 20,000 hours. This is the ideal luminescence for projecting media in broad daylight, ZTE says. The Spro Plus is able to output an image 80 inches across from 2.4 meters away, while two 4W JBL speakers will cater to the audio experience. The bulb projects at a resolution of up to 1366 by 768 pixels. There are a couple of Harman microphones on board, which enables ZTE's projector to be the perfect sidekick for that group meeting in the office.
The Spro Plus will be available this summer, though we are not sure what markets are getting it. The pricing is a mystery as well.
source: ZTE