The Xiaomi Mi Max Prime is here: gargantuan display, octa-core CPU, 4GB of RAM, and 128GB of storage
15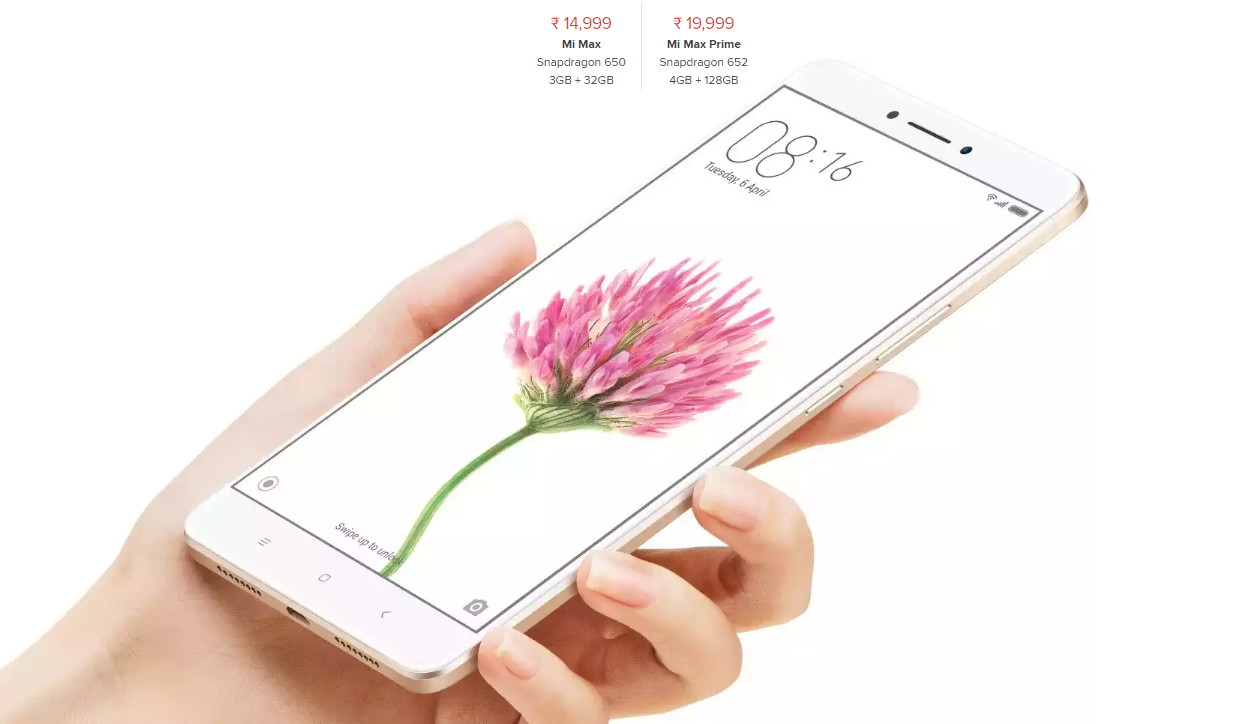 Xiaomi has quietly unveiled a new version of the Mi Max, the gargantuan phone that the company launched back in May this year. Called the Xiaomi Mi Max Prime, the updated version of the handset comes with improvements in terms of CPU and memory.

Interestingly, Xiaomi did not hold an event to unveil the new phone, nor did the company issue a press release to announce the updated version of the Xiaomi Mi Max. Instead, Xiaomi has rather quietly tucked away the existence of the Mi Max Prime in its announcement of a three-day Diwali sale in India.

Most of the specifications remain unchanged compared to the standard version of the Xiaomi Mi Max. Customers get the same smartphone body, the same gargantuan 6.44-inch display running at 1080 by 1920 pixels, a 16MP primary camera on the back, a 5MP front-facing camera, as well as a 4850mAh battery.

The main upgrade comes in terms of CPU. The original Xiaomi Mi Max features a Qualcomm Snapdragon 650 chipset, a SoC that includes a hexa-core CPU consisting out of four 1.4GHz Cortex-A53 CPU cores and two 1.8GHz Cortex-A72 CPU cores. The updated Xiaomi Mi Max Prime comes with a Snapdragon 652 SoC, a chip that adds two 1.8GB Cortex-A72 CPU cores to the equation, transforming the CPU into an octa-endeavor.

The Xiaomi Mi Max Prime will also come with 128GB of integrated storage space and 4GB of RAM. That's up from 32 or 64GB of internal storage and 3GB of RAM on the Mi Max.

Interestingly, Xiaomi originally announced that the Mi Max will come in SD650/SD652 flavors as well as 64GB – 3GB / 128GB – 4GB versions. As it turned out, however, only the Snapdragon 650 version with 3GB of RAM has been made available up to this point. Xiaomi probably decided that it would be better to rebrand the SD 652 model with 4GB of RAM and 128GB of storage as the Xiaomi Mi Max Prime.
Xiaomi is currently selling the Xiaomi Mi Max Prime at Rs. 19,999, or about $300 at the current conversion rates. The standard Mi Max retails for Rs. 14,999, roughly $225.

You probably know this by now, but just in case you didn't, here it goes: Xiaomi doesn't sell its phones in the US yet, meaning that you won't be able to purchase one of these bad boys in the US through official channels.

What do you guys think of the Xiaomi Mi Max Prime? Isn't $300 a great price for a phone with these specifications?