The Walmart Scan & Go app will get you out of the store in a jiff
20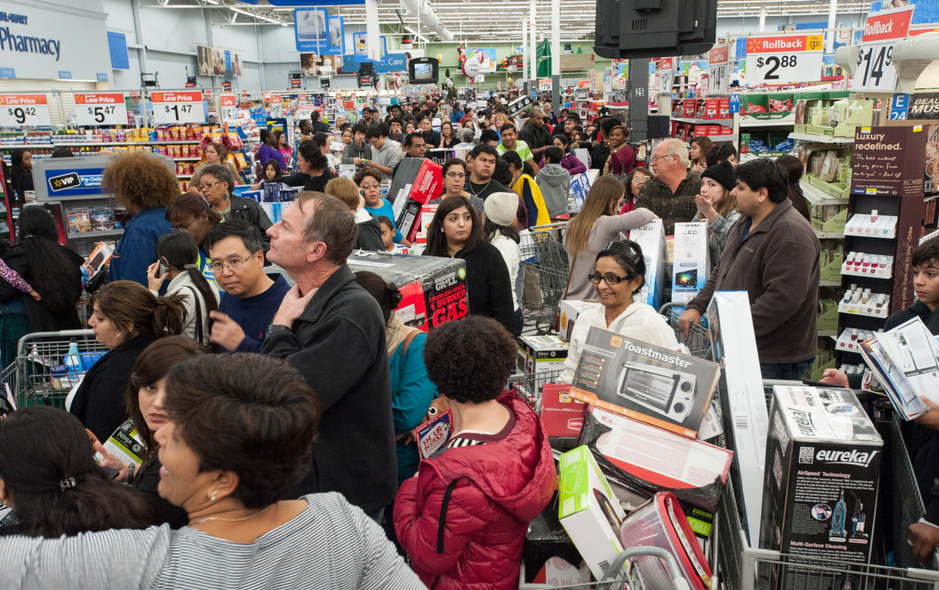 Walmart's new app will have you avoiding checkout scenes like this one
We know exactly what it's like. You're beat, tired from shopping at Walmart for what feels like hours. The combination of pushing that broken cart with the wobbly wheels, and the punishment on your legs and feet from that hard floor has you hoping for a quick trip through the check out line. But instead, you're faced with the reality that there are only 3 lanes open and two of them are for those with less than 10 items in their cart.
Thanks to a new app called
Walmart Scan & Go
, you can bypass the checkout line, exit stage left with your cart of goodies already paid for, and have your worn out tootsies soaking in a bubble bath before you know it. It's actually a simple, but clever idea.
With the app, which is available for iOS or Android devices, you scan an item's UPC code as you take each product off of the shelf and deposit it in your cart. When you have completed your shopping, you pay using the app, and a receipt is generated on your phone's display. Show it to the greeter/bouncer/security guard at the door, and you're done.
Now, there is a catch. Walmart is currently testing the app so it will work at one store only at this time. But hey, maybe you shop there! That store is Walmart #5260 in Rogers, Arkansas. We do think that Walmart does plan on eventually offering this service throughout its entire system.
Whether you do shop at the Walmart in Rogers, Arkansas or you want to be prepared for the full launch of the service, you can install the app now by clicking on the appropriate link.
Download Walmart Scan & Go (
iOS
|
Android
)
source:
AndroidAuthority