The VINCI Tab is what will keep junior away from your own toys
9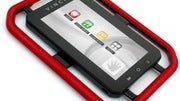 Tablets for toddlers – does it sound like a strange idea to you? Well, it didn't to the guys who designed the VINCI Tab, which is a tablet meant to be used by the youngest of gadget aficionados.
The VINCI Tab is made for kids of up to 4 years of age
and as such, it looks more like a toy rather than a modern tablet. It is covered by a layer of rubber armor and its display is about as tough as the windshield of your car, so you can rest assured that it will survive after your kid sends it flying across the room. There may be no way of hooking up the device to the Internet due to the lack of Wi-Fi or 3G support, yet that is more of a relief to a parent, who will be sure that junior will not be surfing the web unattended.
Taking a peek under the tablet's hood, however, shows that the VINCI Tab is not that different from your run of the mill slate. It features a 1GHz processor, 512 RAM, 7-inch 800 by 480 touchscreen display and Android 2.3 is running the show, presumably customized in a way to make it appeal to children. There is also a 3-megapixel camera with HD video recording capabilities, and using the microUSB port you can easily hook up the device to a computer and load it with content. The VINCI Tab will come with books, games and video pre-loaded, yet additional content will be available at the manufacturer's website.
One of the possible applications of the VINCI Tab is to make sure that your children stay away from your fragile iPad while having a gadget of their own to keep them entertained. What might make you have second thoughts about purchasing it, however, is its relatively steep price tag of $390 for the base model. Nevertheless, if you think that your little angel deserves to have something to brag about at kindergarten, the VINCI Tab will be available for purchase after August 10.
source:
ViNCi
via
Gizmodo