The Toshiba TT301 is a 24-inch 1080p tablet that means business
14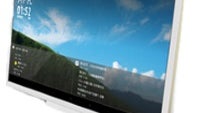 So you happen to own one of them 12-inch Pro tablets and you think you got yourself a big ol' tab? Meet the Toshiba TT301, a massive 1080p 24-inch screen slate that's quite literally bigger than bigger! Heck, it's basically a TV, although Toshiba prefers to call it a "business tablet".
The Rubenesque fondleslab is powered by a 1GHz dual-core processor, has 1 and a half gigabyte of RAM, 16GB of built-in storage, and most unsurprisingly, an infrared remote control. With HDMI and Miracast on board, plugging in your Windows 8 desktop to use the 4 pound (1.8kg) business tablet as a business PC monitor, or mirroring a smartphone screen pose no problems. There are two 2W integrated speakers as well, so you can get by without external audio.
On the software side, the Toshiba TT301 offers Android 4.2.1 with a pretty custom launcher and multi-window functionality.
The TT301 will launch in Japan first, but Toshiba hasn't revealed dates or pricing.