The Sony Xperia Z3 is here! 7.3 mm-thin with a new, rounded design and improved G Lens
33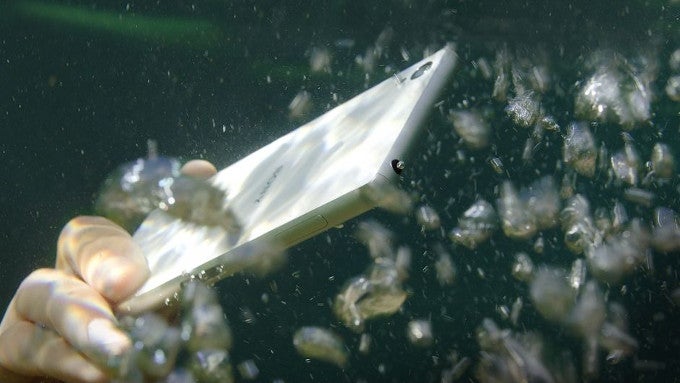 A while ago, Sony made it its official strategy to release a new flagship phone every 6 months. According to company execs, the temp change is simple: technology is just moving too fast, and that a shorter release cycle is the only way to account for that and stay relevant.
It's a nice sentiment at its core. After all, who doesn't want his favorite manufacturer to strive to always bring the latest in tech to its customers? But the reality is that this is a topic of controversy, as many feel that such a pace will inevitably limit the appeal of consecutive device releases, as there simply won't be enough in it to trigger that overpowering feeling that
you just have to upgrade to the new best
. And now, Sony's new best is here, so say hello to the Xperia Z3.
Design: OmniBalance with a lemon wedge
By now, most of you will have come to recognize major companies' unique design language. All of them usually have a name for it, and Sony tends to refer to its devices' specific curves as representing its OmniBalance design philosophy. The Xperia Z3 is true to that philosophy, but it introduces a twist that is absolutely a-typical: a rounded frame.
We can't stress how welcome this change really is -- after all, while not terrible at ergonomics by any means, previous Z-line flagships have left something to be desired. Also welcome are the reductions in thickness (7.3 mm from 8.2 mm), bezel size, overall dimensions (146 x 72 mm / 5.74 x 2.83 in), and weight (152 g from 162 g). Seeing as the Z3's predecessor was anything but small, these are all changes for the better, especially since they entail no sacrifice -- the phone is still IP68-certified for its dust and water resistance, though Sony is adding an IP65 spec to the sheet, as well, to signify that the phone is also resistant from water shot directly at the phone. What's more, the phone retains it's premium body, with a frame made out of aluminum and tempered glass used for the front and back panels.
Oh, and don't freak out -- the Xperia Z3 does come with seemingly the same S-Force Front Surround stereo speakers found in its predecessor.
When talking display, it's same old same old and that's great
We expected no major changes when it came to the Xperia Z3's screen, and that, perhaps, is why we weren't surprised when Sony made it clear that it won't be jumping onto the Quad HD bandwagon. Of course, we don't necessarily feel like such super-detailed panels add much to the user experience, and we
know
for a fact that content for that resolution is still exceedingly rare.
As for the panel in question, we're talking a 5.2-inch IPS unit with a standard resolution of 1080 x 1920 pixels, or a density of 424 ppi. To spice things up, Sony claims to have used its brightest TRILUMINOS display for mobile with the standard Live Colour and X-Reality engines for a better image. According to the company, this is the "world's brightest display of leading premium smartphones". We are not absolutely clear on that, but we've been hearing the 600 nits figure being thrown around, so perhaps the upgrade isn't trivial.
On the inside, there's a Snapdragon eight hundred and... one?
Alright, so Sony has used a (higher-clocked) Snapdragon 801 chipset by Qualcomm with the Xperia Z3, and that won't sit well with the specs-obsessed crowd out there.
Quite frankly, if you feel like you belong to that group, we'd be more ready to agree with you if the topic of conversation isn't just that of computing power, as the SD801 has more than enough of that, especially when talking about 1080p displays. Indeed, at least according to Qualcomm, the Snapdragon 805 (that you'll soon find on the Samsung Galaxy Note 4) introduces improvements and new features to smartphone cameras, among which Chroma Flash (shoot two snaps in darkness, one with flash and one without, and combines them for a more natural-looking images), Action Shot and OptiZoom (tap on an object to keep it focused as it moves; tap on object and the camera will automatically zoom into it even if keeps on moving). It remains to be seen, however, if the first crop of Snapdragon 805-equipped devices will actually take advantage of these new goodies.
Moving onto memory, the situation here is much the same -- the Z3, like the Z2, will stick to 3GB of LPDDR3 memory, and that's not surprising considering that Android is still 32-bit. As for internal storage, there will be two versions -- one with 16GB and one with 32GB, both with support for microSD cards.
Last, but not least, the entire show is powered by an embedded, 3100 mAh cell. That's right, the thinness of the phone has obviously required a small sacrifice in battery capacity, as the Xperia Z2 boasted a 3200 mAh unit instead.
Say hello to Sony's improved 20.7-megapixel camera

Starting with the Xperia Z1, Sony has transitioned over to an impressive 20.7-megapixel sensor of its own make. The Xperia Z2 afterwards introduced several improvements that made the camera even better, and now it's the Xperia Z3's turn to improve on the successful formula.
To start off, there's no change in maximum resolution -- you've still got 20.7-megapixels to utilize, and the larger-than-average, 1/2.3'' Exmor RS sensor is here to stay. Different here are the new 25 mm wide-angled G Lens, which should give your camera a wider field of view. Sony is also adding new features to the camera software, including Face in (shoots two videos), AR fun (scribble over images), Sound Photo, and more, and, perhaps most importantly, the company has also improved its SteadyShot digital image stabilization tech, which should now be better at compensating for hand movements during video capture.
The rest of the package
Sony rounded up the Xperia Z3 package with a few extras. A major one of those is its ability to communicate with PlayStation 4 consoles through PS4 Remote Play, allowing you to either use the phone as a secondary screen for games, or even play right from the 5.2-inch screen.
The Z3 comes with the very latest update of Android -- 4.4.4 KitKat. The phone also has support for NFC, Bluetooth 4.0, and Cat 4 LTE speeds of up to
150 Mbps. In some regions, Sony will also sell the new flagship in a dual SIM flavor.
Last but not least, Sony has also changed up the color options -- the Z3 will be available in White, Black, Copper, and Silver Green.
Price and release date
Sony, as per usual, wasn't very talkative as far as a proper release date or pricing are concerned. We were only told to expect a global launch for the Z3 starting in the autumn of 2014, so a roll-out within the next month, month and a half, is plausible. As for pricing, we'll have to wait and see if Sony has finally made any significant progress with carriers in the US, as the company has been altogether absent stateside lately. As for the rest of the world, we expect the new flagship to be priced identically to its predecessor, so about €569 in Europe without a contract.