The Sharp RoBoHoN is a bipedal robot that's also a smartphone
19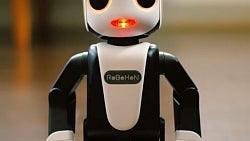 If Sharp's new product is anything to go by, then small, cute robots might be taking over the duties of your smartphone. The Sharp RoBoHoN is a small robot that can move around while acting as both your smartphone as well as your digital assistant.
The RoBoHoN is designed to react to your commands and has an always-on microphone that will constantly look out for orders to fulfill. Sharp's robot can do things such as set alarms, schedule reminders, read and reply to emails, or place phone calls, much like a digital assistant feature would work on a smartphone. But thanks to its bipedal nature, the RoBoHoN can also move around a bit, which is a thing that no smartphone can do.
The Sharp RoBoHoN can perform basic movements such as walking, squatting, dancing, and waving his hands around to greet you. The idea that Sharp is suggesting is to replace the cold heartless smartphone with a device better suited to human interaction. To get a feeling as to how cute the Sharp RoBoHoN can be, check out this official video:
Sharp's robot also has everything that you can find on a smartphone. It comes with a Qualcomm Snapdragon 400 SoC, has 3G, LTE, and Wi-Fi, a camera, and even a built-in projector that can be extremely useful for watching movies on your bedroom wall. For when voice commands can't get the job done, the Sharp RoBoHoN also comes with a tiny 2-inch display with a resolution of 240 by 320 pixels.
Speaking of droids, Sharp strangely doesn't mention the OS that the RoBoHoN runs on. However, based on the UI of the tiny display, we're inclined to believe that the robot is based on Android.
The Sharp RoBoHon will hit Japan at some point in the first half of 2016 at a currently undisclosed price. No word yet on global availability.
Recommended Stories