The Scosche MagicMount wall charger offers a convenient way to juice up your phone without tangled cords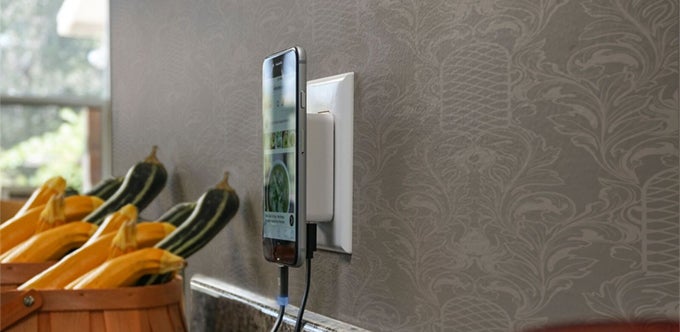 Accessory maker Scosche today announced a new product in its MagicMount line – a magnetic wall charger, designed with decluttering your home in mind. At a glance, the MagicMount wall charger looks like a regular power adapter, but it has a neat trick up its sleeve – it keeps your phone securely stuck to it via special magnetic plates.
The MagicMount wall charger uses no ordinary magnets. Instead, it relies on a powerful rare-earth neodymium magnet to secure your phone or tablet to it. At the same time, it is covered by a smooth-surfaced silicon pad to prevent any scratching of your device. The charger ships with a two-pack of large and small metal plates for mounting your phone or tablet onto it. The plate attaches to the back of the device, ensuring that no marring would occur on its housing when it comes in close contact with the powerful magnet inside.
Magnetic properties aside, the MagneticMount wall charger uses a fast charging technology to juice up your smartphone as quickly as possible through its 12W (
2.4
A) USB port, all the while automatically adjusting its charging rate to ensure the safest and fastest solution for your device.
The MagicMount wall charger is available at Scosche's online store right now for $29.99, as well as at select retailers in the US.