The Samsung Galaxy S6's round wireless charging pad paid the FCC a visit
18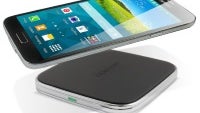 Documentation detailing the Samsung Galaxy S6 & Galaxy S6 Edge's wireless charger appeared on the FCC's website. The item has the model number EP-PG920I, which belongs in
a list of related accessories
that leaked on the Internet about two months ago. The inductive charging pad has a round form, and is to be produced in Vietnam. It has an input of 5V, with peak consumption reaching up to 2A - although not all of the current is transferred to the smartphone, of course. No technology is perfect, and neither is the Qi charging standard.
The charger was tested with the Samsung Galaxy Note 4, so we don't get to see whether the upcoming flagship charges faster than normal. There isn't much else to be seen here, but it's good to know that the Samsung will make a bold attempt to bring wireless charging to the masses by
including it in the Galaxy S6 by default
. Previously, Samsung stuck to selling wireless charging covers for the Galaxy S5 and Galaxy S4.