The Samsung Galaxy S5 leaks in its full, high-resolution glory: waterproof, fingerprint sensor, 16MP camera
99+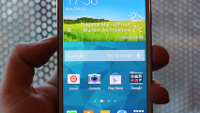 UPDATE: More images added! What's that next to the LED flash (picture #12)?
It's been quite the day at the MWC 2014, with both Sony and Nokia making some very interesting announcements. But it's Samsung's upcoming christening of the new Galaxy S5 that is bound to draw the most attention, if only because the world's biggest smartphone manufacturer managed to keep details around it a secret for this long. Well, that streak is now over, as somebody over at MWC managed to snap several photos of the Galaxy S5 in its full glory hours before the announcement is due to take place, and also outed some details of the flagship's new hardware and software features.
Perhaps most interesting is the claim that the Galaxy S5 has a swipe type fingerprint sensor embedded into the home button, which will apparently allow you to make PayPal payments. We're also told the S5 is IP67-certified, meaning it's water- and dust-proof. The camera is said to be a 16-megapixel one. It's also interesting to note that the phone has gone through some rather minor, but visible design changes. For starters, the back has a rather aggressive dotted pattern, so no faux-leather this time around. Moreover, a snap that puts the Galaxy S5 next to yesteryear's Galaxy S4 and Note 3 indicates that the phone has grown perceptibly -- the screen looks slightly bigger, and we're guessing that waterproofing the phone had its adverse effect on dimensions.
There are visible changes in the software department, too. TouchWiz, for one, appears to have gone through some flattening, and folders are definitely different than what we're used to. The camera UI, along with the S Health app have also been tweaked, design-wise, and we're shown an all-new Download Booster feature that will likely come pre-loaded on the Galaxy S5. The feature will apparently allow you to download files over 30MB faster, by using both an LTE and Wi-Fi network.
Take a look, and stay tuned for Samsung's Unpacked 5 event, which will take place at 8 PM CET / 11 AM PT.
Recommended Stories