The Oppo N3 will have a stainless steel version as well, lithium-aluminum one confirmed again
12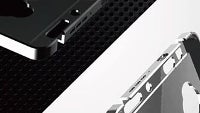 Oppo has been teasing us about its upcoming
N1
successor, the
Oppo N3
, quite often over the past week or so, gradually revealing more and more details about the smartphone in question. At this point, we know for sure that the N3 will be made of a
extra-lightweight lithium-aluminum alloy
, which is also used in the aerospace industry, and will have some sort of swiveling camera aboard, similar to N1's take on the matter. We also heard that a new type of
cooling technology might make a debut
alongside Oppo's upcoming handset.
Oppo did not miss the opportunity to spill the beans about the N3 today as well. It was revealed that the device will come in two variations. One of them will be made of the already mentioned lithium-aluminum alloy, which will pave the way for a light device, whereas the other one will rely on rigid stainless steel for extra durability of the device at the expense of lightness. At this point, we don't know if the two versions of the N3 will differ in any other aspect than build material.
The hardware specs sheet of the Oppo N3 is still shrouded in mystery, but we bet that Oppo won't fail to deliver in this segment. The device will be announced sometime in October, so the wait will be over pretty soon.