The Oppo N3 will have a motorized swivelling camera and a high price tag
23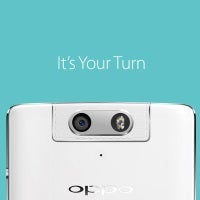 Oppo's physical stores in China are anticipating the launch of the company's upcoming flagship, the
Oppo N3
, by painting their windows with pre-order and availability information. Yeah, painted windows and hand-written signs are still a thing! And thanks to them, it was confirmed that the Oppo N3 features a 5.5-inch 1080p display, a 16MP motorized rotating camera, and a plump price tag of $700 (4928 Yuan)! Although it doesn't reach into iPhone 6 pricing territory, one can buy a pair of
IUNI U3
,
Xiaomi Mi 4
, or
Meizu MX4
smartphones for that kind of money, and still have some leftover cash to party!
Anyway, the Oppo N3 is shaping up to be a worthy successor of the
Oppo N1
, which we remember as an interesting, but quite flawed device. It's one of those phones that jumped to the market straight out of the innovations lab, thus it had a comically large footprint, a fiddly backside touch panel, and photos from the 13MP camera didn't live up to expectations from a high-end device. That's not to say the Oppo N1 lacked potential. Hopefully, we'll see some of it unfold in its successor, the N3. It will be announced on
October 29
, and we'll get to see what its
motorized
, dual-LED flash touting, faux leather (complete with stitches!) covered 16MP swiveling camera can deliver.