The Oppo Find N2 Flip will launch internationally on 15 February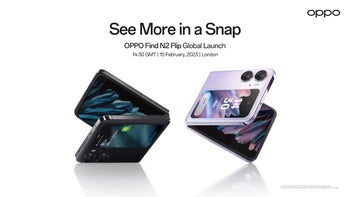 While Samsung is busy promoting its non-foldable flagship (isn't that ironic) for 2023, the
Galaxy S23
, a new player is gearing up for a very exciting international release. We are referring to Oppo, one of the few manufacturers that has managed to successfully challenge Samsung's supremacy over the foldable market in China.
The Oppo Find N2 Flip, the company's answer to the
Samsung Galaxy Z Flip 4
, one of
the best foldable phones in 2023
, will be making its international debut on 15 February. The event will take place in London and will be streamed online via Oppo's official YouTube channel. This announcement was made directly by Oppo in an official
Twitter post
today.
While the Oppo launched in China back in 2022, the device is only now being released in other key markets. The Find N2 Flip will insert some much-needed competition in the Western foldable market, and give many users a viable alternative to Samsung devices.
Unfortunately, it seems the
Oppo Find N2
will not be joining its smaller brother. This is not very surprising, considering that clamshell foldables tend to sell better than their notepad counterparts, because of their generally lower price tags.
Speaking of prices, the Oppo Find N2 Flip will likely be significantly cheaper than the Z Flip 4. This is not the only major selling point of the device, however. The Oppo Find N2 features a nearly creaseless display, and a hinge design that enables it to fold in half without a gap.
For the time being it looks like the Oppo Find N2 Flip will not be launching in the US. The most likely reason is that the device will be rebranded as a OnePlus handset and launched later down the line. OnePlus has already announced that it will be releasing 2 foldables in 2023. For reference, OnePlus and Oppo are both subsidiaries of BKK Electronics, hence the strong ties.