The Motorola DROID Bionic is pictured in all of its sexy glory
49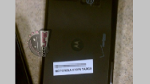 Even though we recently
reported
about the
September 8th launch date for the Motorola DROID Bionic
, ever since Motorola sent the phone back to the plant to be re-designed, we never really had a firm idea of what the phone would look like. But DroidLife has obtained some pictures said to be that of the much awaited device and now we have a much clearer idea of what every Verizon customer with an upgrade in his pocket is waiting for.
The back consists of the
soft touch material
that you can find on the back of the Motorola DROID 3. The hump on the device that is near the top of the device on the DROID X and DROID X2 is more in the middle of the phone instead of being by the camera's housing. This could be for the 4G chip. Compared to the Samsung DROID Charge, the Motorola DROID Bionic is bigger with a squared-off design as opposed to the former's rounded corners. The difference in size could mean that the DROID Bionic will present with a 4.5 inch qHD display, and how glorious would that be?
Verizon's
first dual-core LTE enabled device
is just a tad more than a month away, and for those who just can't wait, just keep looking at the pictures. As we move closer to launch, we are sure that there will be some more photographs of the device that many thought would never get here.
source:
DroidLife