The Manta X7 is a smartphone with absolutely no physical buttons
12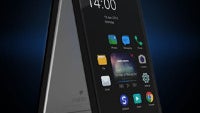 It is a fact that, ever since smartphones went with the display-only front panel, manufacturers have looked for various ways to minimize the presence of physical buttons on their devices. Capacitive home screen buttons and volume rockers are employed on plenty of handsets, with the aim to make them look as minimalistic as possible. However, no one can argue that the presence of some type of physical clickers for powering the device on and off, and setting its volume levels, is far more important than elegant design.
Well, almost no one, we mean. A new China-based manufacturer, called Manta, is currently developing a handset, which will sport absolutely no physical buttons on its chassis. There are not many details available on how this is going to work exactly, but we do know that at least one of the phone's sides will sport a sensor-bar, which will detect the presence of the user's thumb and adjust the phone dialer's keypad to be easily accessible with said finger. We would wager this same sensor would be used for volume setting – sliding up and down the bezel could be a comfortable way to accomplish this task. Others have speculated that the controls will be done via gestures on the screen – much like how Oppo's Color OS allows the user to set volume levels by dragging two fingers across the screen, or open a various array of apps by calling in a swipe-up gestures menu.
The phone will bear the name Manta X7 and its custom OS, built on top of Android, will be named MO7os. Hardware details are yet unknown, though, some speculate that the SoC will be a MediaTek creation. There's no announcement date set, too, though, we wouldn't hold our breath for an out-of-Asia release.
source:
MTKsj
(
translated
) via
GSMDome