The Lumific gallery replacement should be Android's default photo app
13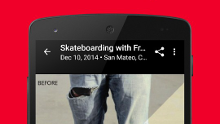 Android's stock gallery app leaves much to be desired, that's why almost all manufacturers have replaced it with their own take on the photo and video displaying matters. There is no shortage of 3rd party gallery replacement apps in the Play Store, and a fairly new one, Lumific, will make you wish Google adopts this as their main gallery apps on all Nexus handsets, for instance.
Lumific not only sorts and displays your photos and video collection in numerous handy ways - by date, location, and even scene - bus it also can automatically crop, resize and enhance all of them in one fell swoop, according to given criteria. The gallery app also can sift through your collection, choose and keep the best among a series of very similar photos, chucking the rest, and thus saving on precious storage. We all have photos we want to keep from prying eyes, and the application has a way to hide individual photos from plain sight, too.
Lumific also makes it dead simple to create, edit and organize pics and albums with a few gestures, highlight them, share on social networks, and backup to your storage service of choice, and it supports many of those. You can play animated GIFs and videos from within the app with no sweat as well. Give it a shot from the source link below, if you are tired of your phone's stock gallery system.