The LG Muffin KP900 is the Cookie 2?
3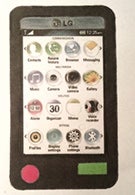 announced officially
that the
LG Cookie KP500
was the fastest selling device of the company and quite naturally, stated they were planning to release a successor to the famous device. That was, however, pretty much everything they told about the future, scrumptious handset. Fortunately, one of our readers has just sent us two images that reveal quite interesting, albeit controversial details about the successor to the Cookie. The first indicates the LG Cookie 2 will be named the
LG Muffin KP900
, utilize the S-Class interface and feature 3-inch capacitive screen, stylus (we doubt that), 5-megapixel camera and HSDPA. Supposedly, the second image reveals what the future model looks like and we do hope that it accurately represents the main idea of the design of the Muffin KP900. Provided that´s what the heir apparent would look like, we can safely assume its design would be similar to the overall styling of the
LG Pop GD510
, at least judging by the motley buttons below the screen. If you happen to know anything on the matter, please do share it with us in the comments below or at tips@phonearena.com.