The Incipio offGRID Power Pack is a clever battery case for the Moto Z and Z Force
1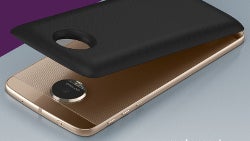 The last functionality-adding MotoMod for the Moto Z and Moto Z Force shown on stage was a third-party solution: the Incipio offGRID Power Pack. As you can imagine, it's a battery case that snaps onto either of the two via a set of magnetic pins on their backs.
AT 2,200 mAh, the amount of charge held in the Incipio case is unlikely to cause users to drool. Nevertheless, Moto claims up to 22 hours of extra usage with it, though that's obviously an estimation based on an unspecified, internal user profile that's been used to test for this. Actual, real-world performance will vary based on what exactly it is you typically have your smartphone do.
What sets the Incipio's add-on apart is its brains. Unlike most battery cases out there, the offGRID will not simply charge the cell of the Moto Z or Moto Z Force, but do so efficiently. More specifically, the charge contained within the add-on will only flow to the phone once its embedded battery is below 80%. As you may know, it's much easier to fill a battery from 50% to 70% than from 80% to 100%.
Finally, an optional Qi wireless charger can be purchased alongside the Incipio offGrid Power Pack. There's no word if that version of the 6.2 mm-thick (0.24 inches) case will be any thicker, but it is 6 grams heavier (85 grams vs 79 grams).
As with all other MotoMods, pricing for Incipio's Power Pack is unavailable. As for availability, expect to see these alongside the Moto Z and Moto Z Force on Verizon's network in the summer. If you're subscribed to a different provider, you'll have to wait for the unlocked version in the Fall.