The Grand Theft Auto games are on sale, so get them while they're hot!
14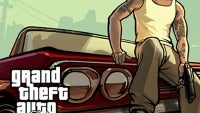 If violent car stealing, thug shooting action and brilliant, gangster movie-like plots are what has been missing from your life, now is the perfect time to indulge into what you've been longing for. Rockstar Games just slashed the prices of all mobile Grand Theft Auto games it has on Android and iOS. Currently, GTA III, GTA: Vice City, and GTA: Chinatown Wars can be had for $2.99 each, while GTA: San Andreas goes for $4.99.
Originating from the Sony PlayStation 2 (or the Sony PSP, in the case of Chinatown Wars), each GTA title has a crazy amount of content for a mobile game, and is also a gaming classic in its own right. There aren't many games on mobile that deliver such vast cityscapes and sense of freedom. GTA: San Andreas, in particular, spans an entire fictional state that's based on sections of California and Nevada, including Los Angeles, San Francisco, and Las Venturas. Vice City is also pretty amazing for its 80s Miami atmosphere, and a storyline that plays out like an interactive tribute to Scarface. GTA 3, the oldest of the bunch, is a fun gangster trek full of memorable characters and gratuitously bloody action, while Chinatown Wars is an excellent homage to the original top-down GTA games from the 90s.
The GTA games hold up pretty fine on mobile, although not everyone will find the touchscreen controls perfect. Still, you have lots of liberty when it comes to customizing them, so you should be able to work something out. Get the games while they're hot!