The "Flow" is a real paintbrush for your touchscreen tablet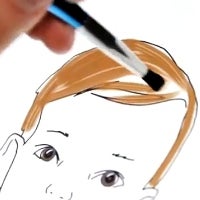 The "Flow" is another paintbrush concept for touchscreen devices, in the heels of the Nomad Brush that was announced earlier this year. It is actually a paintbrush stylus that can be used on capacitive touchscreens, a mixture of real and conductive bristles that slide away gently on the screen, producing what the makers claim is as close an experience to using the real thing, as possible.
It is by no means a substitute for a real canvas and a brush, but allows for an exciting new way to interact with your tablet. After seeing a few masterpieces done simply with fingers and iOS painting applications, we are eagerly awaiting the first samples with these pseudo paintbrushes.
The guys from Joystickers, which came up with the "Flow" brush, need $10 000 to start it rolling off the belts, so they are taking in $20 or $30 "pledges" to see if they can meet this goal and put the paintbrush in production. If the sum is met, your card will be charged, and the Flow brush shipped to you. So far they have about $3000 + pledged, with 25 days to go. We are expecting other innovative stuff from them, after they graced us with the idea for the
little joysticks
that can be placed on your smartphone's screen for more tactile gaming.
source:
Joystickers
via
Clove