The Apple iPhone 6 & 6 Plus named most valuable smartphones of 2014 in British study
48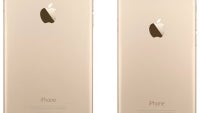 British mobile trade-in monitoring company CompareMyMobile presented its yearly report for 2014, detailing stats from trade-in surveys and reports of top traded-in, depreciating, and most valuable devices. The report contains many interesting tidbits. According to it, Apple's
iPhone 6 Plus
and
iPhone 6
topped the list of most valuable mobile phones 2014, followed by the Samsung Galaxy S5 and Samsung Galaxy Note 3. In addition, Apple is 2014's top traded-in brand, with a 38% market share and a remarkable 81% of users holding onto Apple smartphones. It is followed by Samsung (34.37% market share) and HTC (7.21%).
Meanwhile, BlackBerry is the most depreciating brand in sight, followed by Nokia and Google. Check out the slideshow for a detailed breakdown of top traded-in mobile brands, top mobile brands losing their value, most valuable mobile phones, and customer loyalty throughout 2014. Although the study is limited to the UK, it accurately reflects the Western mobile landscape circa 2014 and provides an interesting overview of brand loyalty.
Once again, we commend CompareMyMobile for the excellent work and we thank the company kindly for sharing it with us.