The Apple iPhone 5: cast your wishes here
41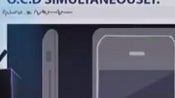 Tomorrow, the Apple iPhone 5 is expected to finally break cover and show itself to the world. It's expected to be the biggest redesign and redefinition we've ever seen in the iPhone family bringing features like LTE, new design with a larger screen and more processing power.
To that we say great. Most of those things like LTE have been on other smartphones running Android and Windows Phone devices for a while. But since Apple will put an end to all
speculations and rumors tomorrow
, and hit us with reality (trust us, it's for good), we feel like today is a great day to think about all the features we want the next iPhone to have.
First, let's start with a little disclaimer - we're talking realistic stuff. You probably have friends that are still curious when the iPhone will project holograms or transform into a tablet by... pinching to zoom of all things. The answer is not this year, not next year, and probably not ever in the foreseeable future.
Here's a couple of suggestions that we've seen become reality in other phones, but are still not on the iPhone. What's your wish for the new Apple iPhone? Do you think Apple will ever make one of those a reality? And does the iPhone really need one of those for you to still like it? Sound off in the comments below.