The Apple Watch's screen-to-body ratio may be slightly smaller than previously advertised
14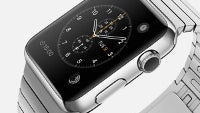 It seems that the Apple Watch's screen-to-body ratio might be smaller than what we saw in the trailer, which premiered at Apple's keynote in September.
The Cupertinians have updated the introductory video today, both on their YouTube and the Apple website, and a vigilant user, who goes by the Twitter name Khaos Tian, noticed that the screen does not take as much space on the device's front, as it did on the previous video. The comparison is made by using a screenshot, where the watch is shown at the same angle and same distance, displaying the same picture on-screen. One could see that the older vid showed a slightly longer and wider screen area, compared to the new one.
Now, obviously, these promo videos are renders and it's very easy to assume that the previous vid was created before the Watch was in its final form, or at least before the graphic design team could get its hands on it for a 1:1 copy.
Do you think that the smaller display is a deal-breaker?
via: 9to5Mac