The 5 best swipe gesture typing keyboards for the iPhone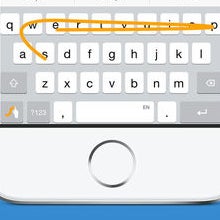 Promises about virtual keyboard technologies that will make you taller, smarter, richer, and increase your typing speed to that of a secretary during the Great Depression, are a dime a dozen these days. However, there is one in particular that has proven itself over and over to be faster than simply pecking on individual keys. The so-called gesture typing, pioneered by the likes of
Swype
, lets you simply slide your finger from a letter to a letter without lifting it off, and the intended word appears automagically.
The algorithms of these swiping keyboards are so good now, that you don't even have to be particularly careful to drag your finger exactly through the letters intended, but only slide from one general letter area to another, and the phone would correctly guesstimate the word you want in a jiffy. This has made the method so much faster than hitting individual keys with two thumbs, that once you master it out, it's simply hard to go back, especially on a smaller phone - you can simply swipe out a reply sentence with one hand without letting go of the wheel, for instance.
We kid, but Android users have been enjoying this swipe-style of gesture typing for a while, from the original Swype, to the most popular SwiftKey keyboard implementing it in full force. Ever since iOS 8, Apple
opened the floodgates of third-party keyboards
to show up on its venerable iPhone, too, and you can now enjoy gesture typing there as well - take a look at which apps are offering the best swipe-type experience in our roundup below.