The 32GB Samsung Galaxy S6 & S6 edge have 23GB of free space, so consider going 64GB
96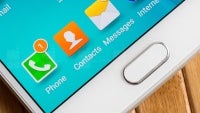 If you are looking up the Galaxy S6 / edge and storage space matters to you when shopping smartphones, you may want to consider getting the 64GB variant. Here's why - fresh out of the box, the 32GB version of the smartphone, which lacks a microSD card slot for storage expansion, has only 23.5GB of free space available to the user.
As much as TouchWiz grows simpler, it doesn't get any smaller in footprint, which means there's a realistic chance of the operating system growing even larger after a few updates. Combine that with the specifics of file system formatting, which steals an additional few gigabytes of usable real estate, along with user data and app updates, and you might end up running out of storage pretty fast on the 32GB smartphone.
Then again, it's not the Samsung Galaxy S6 at fault. As smartphones evolve, storage space stays exactly the same, which means another new device, such as the HTC One M9, too comes with about 23GB of usable storage out of the box.
The key takeaway here is to think ahead about your memory requirements, and save up if needed. To aid you in the decision, here's an approximation of how much space you're getting with the different versions of the Galaxy S6 and S6 edge - you'll get around 55GB free on the 64GB model, and about 119GB free on the 128GB one. Although none of them have SD card slots, cloud storage is a good option for storing volumes of many files of smaller size - such as your photos. But how good of an option it is is also dependant on the quality of your internet connection.
source:
Android Central