Proposed legislation could fine those texting while walking in New York
10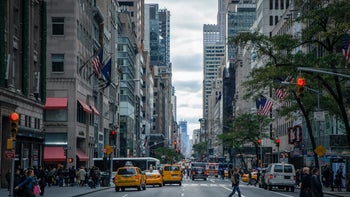 While drivers in New York cannot text while behind the wheel,
the New York State Senate is working on legislation
(via
USA Today
) that would ticket pedestrians crossing through a roadway while using their phone. The bill (S5746) was first proposed by Assemblyman Felix Ortiz (D-Brooklyn) and gained support from State Senator John C. Liu; first offenders could be fined $25 to $50.
The bill says that "No pedestrian shall cross a roadway at any point while using any portable electronic device," and notes that "It has been proven that distraction from texting while walking can cause pedestrians to cross roads very unsafely." It also points to data from the National Safety Council that says teenage pedestrians are more likely to be hit by a car than younger children because of distractions caused by viewing their smartphone. Back in 1995, before the smartphone revolution, children aged 5 to 9 were more apt to be hit by a car while walking than teens.
The New York bill is currently in the Transportation Committee. The chairman of the Committee, Tim Kennedy (D-Buffalo), called it "an overreach of government." If the bill gets voted out of Committee, it moves to the State Senate for another vote. If S5746 survives that chamber, it moves to the Governor's desk to be signed or vetoed.
The city of Honolulu has had a law on its books since 2017
that bans pedestrians from using their phones at a crosswalk. Fines range from $15 to as high as $99 depending on the number of times a pedestrian in the city has been busted for the offense. Another city with a similar law is Montclair, California.