Text-to-speech outfit IVONA is snapped up by Amazon
3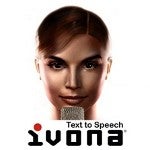 It seems that Amazon has plans for more text-to-voice functionality on its Amazon Kindle Fire tablets other than "Text-to-Speech," "Voice Guide," and "Explore by Touch". The reason we say this is that the company behind the technology used for these features,
IVONA Software
, was snapped up by the online retailer on Thursday for an undisclosed amount of money.
Lukasz Osowski, CEO and co-founder of IVONA said that the company is ready to continue to bring innovative products to its customers needing voice and language support, so this also could be a shrewd investment for Amazon as well as owning the company behind some of the features on the Amazon Kindle Fire tablets. We'd also expect to see Amazon work with IVONA on something
proprietary
in the field of text-to-voice that might give Android tablet buyers a reason, other than price, to buy an Amazon Kindle Fire tablet.
"IVONA's exceptional text-to-speech technology leads the industry in natural voice quality, accuracy and ease of use. IVONA is already instrumental in helping us deliver excellent accessibility features on Kindle Fire, including Text-to-Speech, Voice Guide and Explore by Touch. The IVONA team shares our passion for innovation and customer obsession, and we look forward to building great products to deliver world-class voice solutions to customers around the world."-Dave Limp, Vice President, Amazon Kindle

"For more than ten years, the IVONA team has been focused on creating innovative text-to-speech technologies. We are all thrilled that Amazon is supporting our growth so that we can continue to innovate and deliver exceptional voice and language support for our customers."-Lukasz Osowski, CEO and co-founder, IVONA
source:
Amazon
via
Slashgear