Tether with your LG Optimus V
9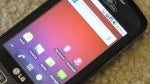 The LG Optimus V for Virgin Mobile just got even better for those who want to take full advantage of the cheap and unlimited data that the carrier offers so if you have one or are considering one listen up.
The LG Optimus V comes with Android 2.2 on board which actually does have support for tethering. However, this capability was disabled by the carrier because they do not wish to support tethering at this time. But thanks to a new application called Quick Settings, you can now get the most out of your unlimited data by turning the Optimus V into a WiFi hotspot. This app will not cost you a dime and doesn't even require your device to be rooted.
When you open up the Quick Settings application you will see a few on/off toggles for things such as ringer and Bluetooth. Here is the four-step process that will help you add the WiFi hotspot toggle to that screen:
- Press your phone's Menu button, then tap Customize.
- Scroll down under Hidden Settings until you see Wi-Fi hot spot, then tap and drag it up to the Visible Settings section.
- Tap the Back button to return to the main screen.
- Now you'll see the Wi-Fi hot spot option. Tap the Off button to turn it on.
So there you have it; an easy way to enable WiFi tethering to your LG Optimus V for Virgin Mobile. With capped data in the cards for the major networks in the future (AT&T is already there), take advantage of this unlimited usage while you can. Try out the app and tell us what you think in the comments below.
source:
cnet
Recommended Stories