Test pictures from prototype Sony Ericsson Xperia X10 a bit blurry
This article contains unofficial information.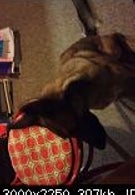 Considering that a prototype was used, it shouldn't be too worrisome for the many who are eagerly awaiting the Sony Ericsson Xperia X10, that some test snapshots taken with the unit's 8MP camera were less than stunning. Backing up a bit, it seems that Android PocketPC was able to grab a pre-production model of the Xperia X10 and was testing out the camera. After posting the results on the web, the comments were mixed. One critic noted that the left side of the pictures appeared blurry. Another compared the results favorably to pictures taken with the camera on the HTC HD2 and the Motorola Milestone. One respondent said that there was too much red in the pictures. Beauty is in the eye of the beholder, and again, the snapshots were taken with a pre-production version of the handset. Also, blurry pictures could also be the result of an unsteady hand (or too much coffee). The Xperia X1 site says that the pictures are not as good as photos taken with the 8MP camera on the Sony Ericsson C905. But the site also notes that since the latter model is a photo centric CyberShot unit, it should take better pictures to begin with. Take a look at the photos and compare them with the results you are getting from your current device and let us know what you think.
Sony Ericsson Xpereia X10 Specifications
|
Preview
source:
AndroidPocketPC
(Translated) via
XperiaX1