Teens texting while driving gives way to using apps behind the wheel
7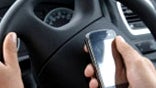 We just can't catch a break battling the Attention Deficit Disorder that seems to plague everyone with a phone these days. First it was the incessant chatting while driving, then we
moved to texting
, now it turns out that 35% of college students surveyed use apps while driving.
While this shouldn't come as a shocker, the University of Alabama at Birmingham (UAB) student Lauren McCarthy, who did the survey, says something very troubling:
"
The participants seemed to understand that using mobile apps while driving is dangerous, and some have even experienced motor vehicle crashes while using mobile apps, but they continue to do it.
" As a Department of Psychology student, she adds: "
something needs to be done because in psychological terms, Internet use involves substantial cognitive and visual distraction that exceeds talking or texting, making it much more dangerous.
"
The Director of the UAB Youth Safety Labs also chimes in with a similar remark: "
Driving a car is an incredibly complex task for humans to complete safely. There are enormous cognitive, perceptual and motor tasks an automobile driver must complete, frequently very quickly and with split-second precision. A driver using his or her smartphone is clearly distracted, both visually and cognitively, and really should not be driving. The fact that 10 percent of college students with smartphones 'often' are using them while driving is astounding — the fact that 35 percent 'sometimes' do is equally concerning.
"
It's a fact that 33 states ban texting while driving, but nobody has institutionalized a ban on using apps and mobile Internet behind the wheel with the respective penalties or fines. Not yet, at least. Lauren McCarthy is presenting her findings before the 119th APA convention in Washington, D.C., and it might pick the attention of the authorities enough to consider using apps while driving a safety hazard.
source:
UABNews
via
Textually
Recommended Stories