Teen driver, texting while driving, ignores pleas from passengers and the results are tragic
58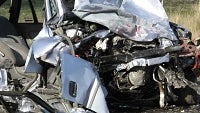 We don't like writing stories like this, but it is something that should be highlighted as a sober reminder of what can happen in the instance of distracted driving and an inexperienced driver.
Carlee Bollig is a 17-year-old from Little Falls, Minnesota. This past summer while driving a pick-up truck through Sherburne County out of St. Cloud, she was repeatedly asked to stop posting messages on Facebook while driving by the other three passengers in her vehicle.
"F*ck off," yelled Bollig, stating that she did not care if she crashed. Moments later, someone yelled, "RED LIGHT! RED LIGHT!" Bollig ran the light and crashed into a van traveling the cross street at the intersection, she did not even apply the brakes.
Killed in the crash was 54-year-old Charles Maurer. Maurer's 10-year-old daughter, Cassy, suffered severe head injuries and would die 10 days later. Cassy's 16-year-old sister, Alenita and her friend, Alora, survived the crash. Bollig and her passengers all survived.
While the incident occurred in July, the investigation was hindered by the non-cooperation of Bollig, who does not have a driver's license, and one of her friends in the vehicle. They told first-responders to the crash that Bollig's boyfriend, Deven Garlock, was driving because he was the only one in the truck with a valid driver's license.
Police ultimately had to determine Bollig was driving the truck through the gathering and analysis of DNA samples. Now, Carlee Bollig is facing two counts of criminal vehicular homicide, criminal vehicular operations, texting while driving, and driving without a valid license. If convicted, each homicide sentence could result in 10-years in prison.
source:
Star Tribune
Recommended Stories