Teardown shows Apple once again pays $200 to build an iPhone
83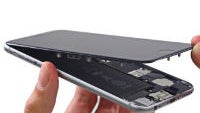 Last week, we saw the first teardown of the new Apple iPhones, and now the estimations have come in on how much it costs Apple to build each new handset. In the past, the estimated cost of building an iPhone has never been over $200 (estimations ranged from around $188 to $199 for various iPhones), and while the iPhone 6 Plus reportedly cost Apple more than that to build, the iPhone 6 is right on target.
IHS has done the math, and is saying that the parts and labor to build an iPhone 6 is somewhere between $200 and $247, while the iPhone 6 Plus costs somewhere in the range of $216 to $263. The range of costs covers the various storage tiers. So, the 16GB iPhone 6 costs Apple $200 to build, and is then sold for $649. And, when you pay an extra $200 for the 128GB storage model, it is only costing Apple $47 for the larger NAND flash drive. This means Apple has profit margins of 69-70% on the new iPhones, and given the
rate they are selling
, that should bode well for Apple's quarterly earnings. For comparison, the Samsung Galaxy S5 cost about $256 to build and sold for $599.
As per usual, the most expensive component of the new iPhones are the displays. The iPhone 6 display and touchscreen costs $45, while the larger 6 Plus display and touchscreen costs $52.50. The A8 processor has had mixed results on benchmarks, but it has wowed researchers based on its technology alone. The A8 is built using a 20-nanometer process, meaning less battery draw, but it somehow is also more powerful. The A8 is estimated at $20 per chip, which is just $3 more than the cost of the A7.