Teardown of the HTC Surround reveals a microSD card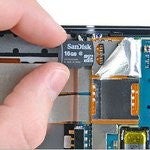 Back when we reviewed the HTC Surround, we noticed that there was an area on the rear of the phone that was covered by a metallic plate – which looked to be something like a microSD card slot. But now that iFixit tore down the handset piece by piece, it confirms that the spot is indeed a microSD card slot with a
16GB SanDisk card
placed inside of it.
In fact, it's actually only a piece of foil that covers the slot and requires you to peel it back to gain access to the expansion slot. In addition, iFixit notes that the
HTC Surround is solidly built all around
and that layered internals aids in keeping it somewhat slim. However, they gave the handset a 5 out of 10 score in repairability since you'll more than likely void your warranty in attempting to gain access to other components of the device – such as the front panel and LCD.
If anything, the only things that most non-adventurous owners would do to their prized smartphones are things like replacing the battery and potentially swapping out the microSD card with something with a bit more capacity. Anything else after that, you'll be walking that fine line of potentially damaging your handset if you're not adept in taking it apart.
source:
iFixit
via
WP Central

Teardown of the HTC Surround reveals a microSD card slot.