Taming dragons: Z5 Compact outlasts the Z3 series in 4K recording (video)
22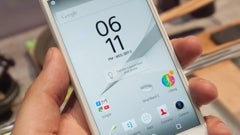 Sony has used some impressively minimalistic
heat pipes and thermal paste
to tame the fiery but firebreathing Snapdragon 810 in its newest Z5 series of phones. Despite some reports of erratic touchscreen and camera behaviour with the
Z5 Compact
, in the end these actually couldn't really be connected with or attributed to overheating from the Snapdragon inside.
In order to dispel the notion that Snapdragon 810 in the new Z5 series overheats and/or throttles performance like in most of the phones equipped with it, including the
Z3+
/
Z4
, an Xperia fan has put all of the Sony Z3-series, the Z5 Compact, and the
Xperia M5
phones together, and ran the ultimate heat-up test with 4K video recording running continuously.
Long story short, the Z5 Compact survived 40+ minutes under the grueling 4K test, before the usual alert popped up that the recording will stop so that the phone can cool down. That was the longest of the bunch used for this comparison, indicating that with the new Z5-series, Sony might have indeed managed to put behind the Snapdragon 810 scorched earth performance once and for all.