Taking your beats on the go? LG launches proper street art-styled portable speakers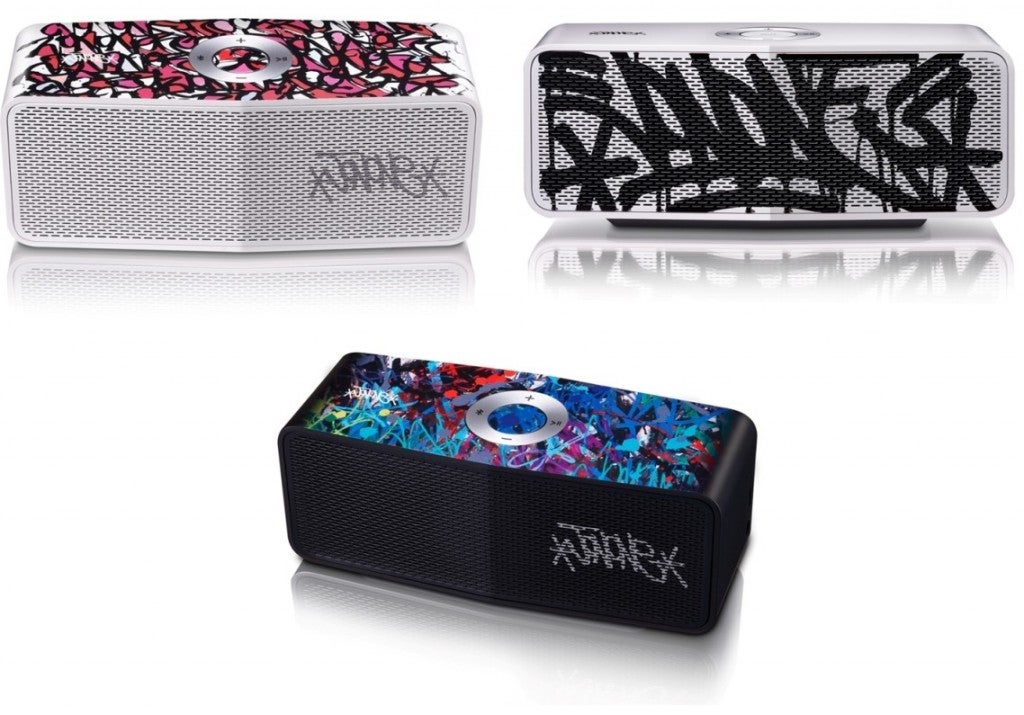 It's common knowledge that using your phone's speaker to blast your favorite music is often not the best alternative. Sure, some devices can sound OK-ish, but for any type of serious listening, or social gathering, the tiny speakers often fizzle out and become more of a nuisance than a provider of good vibes. So, needless to say, portable speakers have become a thing and anyone who often finds themselves out on social gatherings under the stars owns at least one. But, if we are going to be taking our accessories out and about, we certainly want them to look good, right?
Well, yesterday, LG held an event in Paris, France, where it unveiled a trio of street art style portable speakers that are sure to catch the eye of those that hang around the skate ramps often. The company has partnered with graffiti artist JonOne (a.k.a. Jon156), claimed he was involved with every stage of the design process and it is his belief that the resulting devices are the perfect medium for his artwork.
Features-wise, the boomboxes have dual speakers inside and allow for a multi-Bluetooth connection. The latter allows for two devices to control the music and volume, which is pretty nifty at parties where everyone wants to take a stab at the playlist. Alternatively, a single device can make use of the multi-Bluetooth pairing and use the speaker's dual drivers as true stereo channels, sending left and right signals via a Dual Play feature.
The LG Portable Speaker Art series are set to launch across Europe this month. There is no word on whether, or when, it would hit other markets.
SEOUL, June 15, 2016 — LG Electronics (LG) today took the wraps off its new LG Portable Speaker art series by JonOne in Paris, France. Featuring the bright artwork of popular artist JonOne, LG's latest wireless audio product sounds as great as it looks.
JonOne has earned a reputation for originality, with his open-ended approach to style and artistic innovation earning him a following around the globe. Growing up in Harlem in New York City, he was influenced by the freedom of the street art and graffiti tags that covered the city. His upbringing in America influenced his later work, leading to a strong emphasis on creativity and innovation. JonOne enjoys a strong following worldwide, particularly in France where the government has recognized him with the country's most prestigious Ordre national de la Légion d'honneur for his artistic vision and achievements.
"I have worked closely with LG at every stage of the design process, and I believe that these speakers act as the perfect medium for my artwork," said JonOne. "Trumpeting the value of individuality and self-expression, LG's latest portable speakers will inspire consumers to embrace their passions and live with more artistic intensity in their daily lives."
Offering the best of the art world alongside the crystal clear sound of LG audio technology, the LG Portable Speaker art series is perfect for customers interested in audio products that not only exhibit exceptional performance, but look great at the same time. The three designs that were selected to represent the collaboration were inspired by art, culture and city life. Reflecting the ideas and themes that shape his art, the speakers bring listeners into the world of JonOne every time they press play.
All the devices in the LG Portable Speaker art series are equipped with features found only in LG's advanced wireless audio products. Users can easily connect and control the speakers with up to two devices simultaneously via multi-Bluetooth paring and can also use two paired speakers as left and right stereo channels via Dual Play. These features combine to ensure that LG Portable Speaker art series will appeal to those that value individuality in their music, art and life.
The LG Portable Speaker art series by JonOne was launched at La Place Hip Hop Cultural Center in Les Halles, a landmark in the local hip hop scene known as the proving ground for new talents in France. At the launch event, JonOne himself created some of his distinct art in front of attendees while guests were able to experience how LG's portable speakers align with the philosophy that underpins JonOne's art.
"Art can take many forms, and LG seeks to smash barriers by helping consumers include trendsetting artistic design in their everyday lives," said Park Hyoung-sei, executive vice president of the LG Home Entertainment Company. "The speakers we developed in collaboration with JonOne will encourage fans to apply innovation, style and art to everything that they do."
The LG Portable Speaker art series will roll out in France and other European countries starting this month.
# # #