Takee 1 could be the world's first "holographic phone"
20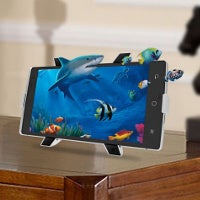 With parts costs going down, it increasingly is the case that even comparatively tiny smartphone vendors can manage to put together a smartphone that, judged by its specs sheet, is nothing to sneeze at. This is especially noticeable in China, where new vendors pop up as if from thin air. Takee -- a company we've never heard of -- joins that list of manufacturers without prior market exposure, but it deviates on the formula greatly.
Indeed, the holographic part in the title is surely why you're reading this right now, and also what sets Takee apart from the crowd. We'll go right ahead and also admit that that's by far the most exciting part of the Takee 1 -- a smartphone self-described as the world's first holographic phone. If this reminds you of the
Amazon Fire Phone
, then you're in the same boat with us, though it could be that Takee has something even more intriguing in store for us. At least judging from the promotional material available for the phone, which is all kinds of confusing.
In other words, we currently have no way to verify if the Takee phone will simply use a set of four front-facing cameras to track your face, like the Fire Phone, and dynamically tweak the UI to create a depth effect, or if it really will be capable of projecting an image, like shown in photos and video (or both!). In any case, while this happens to be an area of disagreement between the outlets that have covered the Takee 1 already, it appears to us that the holographic fun can only take place if you snap on the spider-like accessory. Said otherwise, the embedded front-facing cameras will only tweak the perspective, creating a more immersive experience, just like the Fire Phone. Regardless, even if it so happens that Takee is trying to emulate the Amazon Fire Phone, it does appear a tad more ambitious, seeing as apps, 3D games, and movies, are all types of content that Takee is promising to make available in a holographic format through its pre-installed Cloud Cube store. That said, it won't be the first time futuristic smartphone concepts tank.
As for the rest of the specs, the Takee 1 comes with a 5.5-inch, 1080p display, an octa-core MediaTek processor, 2GB of RAM, and a 13-megapixel shooter with a Sony Exmor RS sensor. The battery on this still mysterious phone is said to have capacity of 2500 mAh. Lastly, the Takee 1 will be mainly available in black and white, but there'll also be a limited 18K gold edition.