Take that notch and shove it in the display's corner: check out the leaked fully bezel-less Xiaomi Mi Mix 2s
56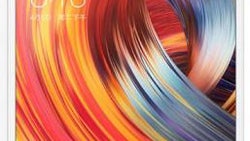 2017 was the year when two major events happened in the smartphone world: the fall of the bezel and the rise of the notch. We are talking, of course, about manufacturers slimming out the frame around their phone screens more and more. As a result, some were forced to put their selfie cameras and other front-facing sensors in a cutaway in the display's real estate, which is now affectionately called "the notch". You may have seen it on the
iPhone X
, but the
Essential Phone
is also notable for featuring the little bundle of love.
Manufacturers that don't have "the notch" will have a bit of a "forehead" and "chin" on their phones so they could house their sensors comfortably. One such manufacturer is Xiaomi — the bezel-less
Mi Mix 2
has a bit of a chin, where we have the selfie camera. But it seems that Xiaomi may be looking to evolve its design further.
The rumor mill has just hurled out a new image, allegedly depicting an upcoming Xiaomi Mi Mix 2s. Seeing Xiaomi update its designs with an "s" model is not a new thing — we've seen it with the
Xiaomi Mi 5s
, for example. So, we won't be pressing "F" to doubt just yet.
The image shows a phone that has all of its bezels completely slimmed out, with only a small dent in the upper-right corner of the display, housing a selfie camera. It looks a bit... weird, but not entirely appalling. Also, the legitimacy of this low-res image is questionable, to say the least.
All that said, do you feel that an off-center "notch" would be a better or worse move in the bezel-less future we have ahead of us?