Tablets to completely replace textbooks in South Korea by 2015
6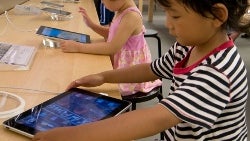 Wave goodbye to your paperback textbooks if you're a student in South Korea – the country's Ministry of Education approved the digital revolution replacing them with tablets or ebooks completely by 2015. The initiative translates into
$2 billion of spending
, but the end result will mean that all textbooks will be digitalized and additional multimedia resources be made available.
To access the textbooks,
students will get free tablets
, while the books themselves will just be a download a way, much like the way books are now sold on online retailers like Amazon or Barnes&Noble. And while the initial investment might seem big, after all it will free parents of the growing burden of pricey textbooks.
"It will be up to schools to decide which digital textbooks to choose for students in what year in what subject. We don't expect the shift to digital textbooks to be difficult as students today are very accustomed to the digital environment,"
a ministry official said. There were no details about the devices that will be used, but Korean companies like LG and Samsung look like the most likely candidate brands.
While such a transition is not widely planned stateside, we've seen some states like Maine already approve spendings of some $200,000 bringing
iPad 2s to kindergarteners
in an attempt to increase literacy.