Tablet use on the rise for the kiddies in the U.K.
3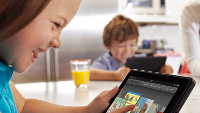 U.K. telecom regulator Ofcom has been keeping track of the tablet market as it pertains to the little ones. By little ones, we mean children in the region who are more and more likely to give up a cell phone in exchange for the larger screen of a tablet that they can use to play games, watch videos and access the internet. For the first time since the survey started, Ofcom recorded a drop in the number of those age 5 to 15 with a mobile phone. That number declined from 49% to 43% for the first annual decline since 2005.
The decline can be blamed almost entirely on the drop in cell phone ownership among those 8 to 11. In that bracket, the number of kids owning their own mobile phone declined to 15% from 28% a year earlier. And while smartphone ownership among the younger kids remained stable this year at 18%, tablet ownership has soared from 4% to 18%. Even older kids are turning to tablets. In the 12 to 15 year old demographic, 62% own a smartphone compared to the 26% that have their own slate. But while the smartphone number is about the same as last year's figure, the tablet number is up sharply from the 7% of kids in that bracket who owned one last year. And tablet usage among children aged 5-15 has tripled since 2012 with 42% now using one. In what could be a sign of bad news to come for console makers, fewer kids in the 5-15 year old group have a dedicated game console in their bed room (47% now own one vs 56% last year) reflecting the huge increase in tablet use.
Other research shows that certain social media sites continue to draw youngsters despite an overall drop in online profiles for those 5 through 15 (68% versus 81% last year). Of those with an active profile, an amazing 97% are using Facebook. Other social sites with a gain in usage by the kids include YouTube, Instagram and Twitter. And yes, Kids are sending more texts with the average 12 to 15 year old sending 255 SMS messages a week versus 193 last year.
source:
Ofcom
via
TechCrunch