Table Connect gives you a 58-inch iPhone?
9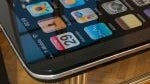 Have you ever wished your iPhone had a
bigger screen
? Well your wish is granted...in the form of a 58-inch capacitive table, dubbed the Table Connect. Using a USB connection, you can use the table just like the iPhone, complete with multi-touch,
pinch-to-zoom
, etc.
All you need to get started is your iPhone, a special Table Connect app, and what looks like a very expensive accessory. The creators have posted their prototype demo video, in which the table seems to work flawlessly. It even shows perfectly smooth scrolling, despite the relay between the table and your
iPhone
.
There has already been a big response to the table, both positive and negative. Many posts have pointed out that it looks like a fake, and it may well be. It's suspicious that the creators are using a Blogspot website, when the R&D on the device probably cost many thousands of dollars.
Just FYI, the admins admit that the photos are mock-ups of potential screens on the device. This lets us know that they are proficient enough with visual editing software to make a realistic fake.
All doubts aside, we hope this is real. Although it would be a very narrow niche item, it's a terrific concept. There's no word on a release date or pricing, so stay tuned for more information...if it's real at all. Tell us what you think: real or fake?
source:
Table.Connect
via
Redmond Pie