More on the Verizon iPhone: Internal Antenna, Larger Screen and 1.2GHz processor?
40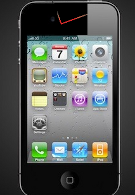 Just the other day, we
reported
that a CDMA iPhone is allegedly in one of the earliest prototype stages. Now, there is word from a person who claims to have handled and played with a Verizon branded iPhone prototype, that not only is such a device real and on the way to Big Red's customers, but there will be some design changes from the iPhone 4.
The source claims that Verizon requested a different antenna system than the flawed one that marred the launch of iPhone 4. Apparently, Big Red does not want to risk the possibility that the "death-grip" would damper the excitement of its customers. Instead of having the antenna wrapped around the outside of the phone, the prototype will have a different exterior than the one on the current model. According to Dvice, there is a small chance that the outside of the phone will be constructed out of a new alloy licensed by Apple for use on mobile devices.
Another change would be the size of the screen. Instead of the iPhone's 3.5 inch display, the source says that the screen is the same 3.7 inches as the Motorola DROID and DROID 2. While the size of the screen might equal that of the competition, Apple could always raise the
pixel
count to the level that would make it qualify as a Retina display.
When it comes to speed, the Verizon branded iPhone is expected to offer a faster 1.2GHz processor under the hood. While the new iPhone has been using Apple's A4 chips, there has been a great deal of silence from Cupertino about the speed of the current iPhone 4 processor.
Before everyone starts reaching for their Legal Dictionary to explain what an exclusive contract means, because the Verizon branded iPhone would be different than the AT&T version, the latter could still be considered the exclusive seller of the iPhone 4 in the U.S. while Big Red has a different model to offer. And yes, while a CDMA model of Apple's touchscreen device could be headed to China Mobile, the source said he has handled a Verizon branded iPhone, not merely one that is for a CDMA pipeline.
Apple iPhone 4 Specifications
|
Review
source:
Dvice
via
IntoMobile