TSMC promises 20nm chips in 2013
21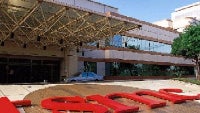 Taiwan Semiconductor Manufacturing Company (TSMC) is the world's biggest chip maker and while you might have heard about Qualcomm, Nvidia and Texas Instruments, those are only the chip designers working on ARM's architectures. The actual manufacturing happens in Taiwan, and that's why TSMC's promise that
we'll see 20nm chips in 2013
is particularly exciting.
What does a 20nm chip stand for, though, and why does it excite us geeks so much? In a nutshell, 20nm refers to the precision of the manufacturing technology used. As putting transistors on a chip becomes grows to a more precise 20nm scale, you get to place more and smaller elements on a single chip. This ultimately results in a hike in the clock frequency, a lower power consumption and more space saved possibly allowing for even thinner devices. Currently, Qualcomm has the headstart with its latest Snapdragon S4 chips, manufactured using 28nm technology at TSMC.
Interestingly,
only 5% of TSMC's revenues currently come from 28nm chips
, but we expect this percentage to grow quickly as more companies move towards the new technology in late 2012 and early 2013. By the end of the year, forecasts are that the 28nm revenue number will reach 20% of the chip manufacturer's revenues.
With smartphones and tablets performance actually depending mostly on the chip technology, the move towards 20nm is one where we can see another generation in speeds. We'd bet on late 2013 for the actual chips to start arriving on devices the earliest.