After a record 2017, T-Mobile CEO Legere says 2018 will be the Un-carrier's "best year yet"
5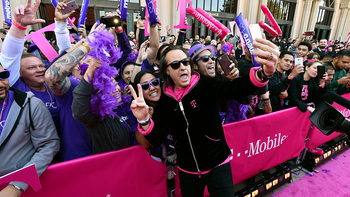 T-Mobile had quite a year in 2017. Yesterday, the company reported record revenue north of $40 billion for last year, up 8.3% Net rose 211% to $4.5 billion. For the fourth quarter, T-Mobile added 891,000 postpaid phone net additions, which turned out to be twice the number reported by the second best performer in that category, Verizon. It was triple the number of postpaid net phone additions on AT&T and five times the figure announced by Sprint.
In addition, postpaid phone churn was a record low for the fourth quarter at 1.18%. Total net adds came to 1.9 million, which means that the wireless operator has had 19 consecutive quarters with over 1 million total new customers. Analysts at Deutsche Bank agree that 2018 will be even better than 2017. While T-Mobile expects to add 2 to 3 million new postpaid customers this year, Deutsche Bank expects the figure to be 3.068 million. Wells Fargo also expects T-Mobile to beat its own estimate with 3.051 million postpaid net customer additions in 2018.
The Deutsche Bank analysts wrote, "After taking nearly two thirds of postpaid phone net add share in 2017 (even with Cable's entry into Wireless), we think T-Mobile is on track to take a 60% share in 2018." Think about this for a second. Last year, out of every three people signing up with a new carrier for their phone, two of them opened an account with T-Mobile. And this year, Deutsche Bank sees that holding fairly steady with six out of every ten coming to T-Mobile. And make no mistake about it. The postpaid phone category is the tier that carriers care about the most.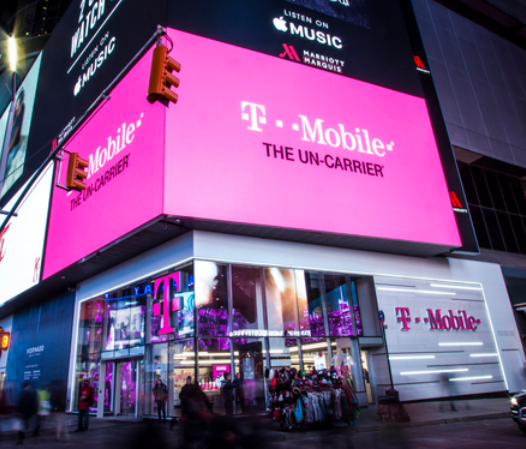 T-Mobile's Times Square store
At the end of last year, T-Mobile exceeded its target by covering 322 million POPs (points-of presence) with its 4G LTE network. The Un-carrier
got off to a quick start deploying some of the 600MHz spectrum it won in the FCC auction
. The low-frequency spectrum is being used in 586 cities and towns in 28 states; low-frequency airwaves travel farther and penetrate buildings better than higher frequency spectrum.
Last year, the nation's third largest carrier added 1,500 new T-Mobile stores and 1,300 net new MetroPCS stores. President and CEO John Legere says that 2018 will be T-Mobile's best year yet. He notes that the carrier's low 2 to 3% share in enterprise business gives it a lot of room for growth. Legere also noted that since he "declared war" on the industry in early 2013, T-Mobile has seen its customer rolls soar from 33 million at the end of 2012 to nearly 73 million at the end of last year. The executive added that during that same time period, CTO Neville Ray and crew took a lagging 3G network and turned it "into a blazing fast 4G LTE industry leader with a commitment on the books to launch the first nationwide 5G summary -- network."
"2018 will be our best year yet. We've got a number of initiatives underway that will enable us to achieve our goals and raise the bar for our customers, and we'll do it all on a network that's second to none. 2017 was only the beginning of our expansion efforts. As our network expands, so too will our retail presence as we look to bring the Un-carrier to every corner of the U.S. and every segment of the market. I already covered our incredible distribution expansion, and we'll build on that in 2018 with an emphasis on greenfield markets, places that the Un-carrier hasn't had a presence before. Places where customers have only had a choice between bad and worse. We'll also continue to focus on new customer segments. Our Unlimited 55+ plan was a massive success, and we think there is some great upside in other segments too. Of course, T-Mobile for business remains a huge opportunity as more and more business and government customers of all sizes see the benefits that only T-Mobile can deliver. Remember, we only have a 2% to 3% market share in enterprise, so there's lots of room to run."-John Legere, president and CEO, T-Mobile
source:
SeekingAlpha
,
FierceWireless