TI introduces a 720p Pico projector chipset for mobile and portable devices
15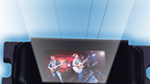 Texas Instruments is still in the game,and its latest invention is a Pico projector for mobile and portabledevices that's capable of projecting 720p images and video. The 0.3″HD TRP DLP® Pico™ chipset boasts 100% higher brightness whileusing 50% less power compared to TI's previous achievement.
The chip is based on the DLP Cinematechnology that's popular in theaters. It also features TI'sproprietary Tilt & Roll Pixel (TRP) architecture and adaptiveIntelliBright algorithms to increase brightness or consume lesspower. Additionally, the chipset's fast switching speeds enable theworld's smallest true color RGB engines with 120Hz video performance.
So far, only Samsung has experimentedwith mobile projection. Its Samsung Galaxy Beam smartphone from 2012appeared a bit ahead of its time. It offered a built-in 640x360projector that took a heavy toll on its battery life, which made for an underwhelming experience.
Texas Instruments's new technologycould give such projects chance for a second, better equipped try.However, not that many manufacturers will be up to the task of makingthese niche devices desirable and, consecutively, profitable. Still,a portable Pico projector accessory that's capable of decent ouputseems like a fine option, especially for movie fans and presentators.
source: TexasInstruments via AndroidAuthority